= Prices & Availability =
*Plans, Casting Kits & Finished Engines*
This kit was created after receiving several emails from people interested in plans or pictures of the original engine,(seen from a clip of it running on youtube at "Click Here").
Plans were made but when putting together a material list for quick ordering from MSC & Enco, found that iron for the main pieces of the engine were a little pricey. Patterns were then made for less costly iron castings.
The machining plans can be used to make a scratch-built, "bar stock" engine. They can also be used with the iron castings being offered (casting kit), to build an engine like the original.
**Note: Plans & castings for this engine are not yet available**
Please email if you might be interested in a kit or plans when everything is finished.
rowland@willard-oh.com
Below: Iron casting material for the RMC "Scratch-built"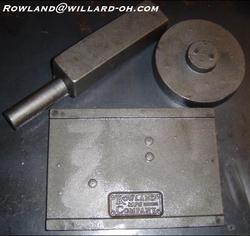 Below: The original engine